Cultural Festival of Calaveras
The Calaveras Cultural Festival is one of the most important traditions in Aguascalientes.
This takes place every year during the Day of the Dead, which has great relevance in Mexican culture nationwide.
This festival has been held in the state since 1994. 
This celebration is strongly influenced by the work of José Guadalupe Posada, one of Mexico's leading visual artists, originally from Aguascalientes.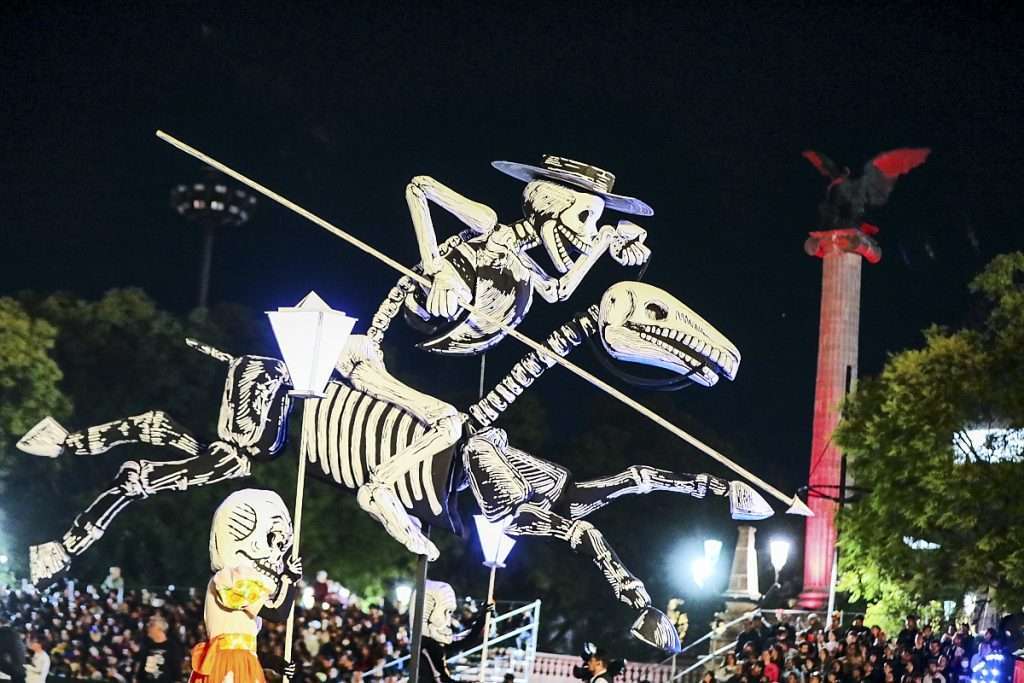 All the activities organized are accompanied by the figure of the Calavera Garbancera, also known as the Catrina, which is one of the most iconic contributions of Guadalupe Posada.
Be sure to attend the great and traditional Calaveras Parade, whose theme evolves year after year.
It is part of the procession of hundreds of people wearing masks or face paint, waiting for the passing of floats and monumental skulls.
There is no corner of the city without the atmosphere of this celebration.
Find out more about the Calaveras Festival
At the Calaveras Cultural Festival 2023 "Viva la Catrina" there will be more than 500 activities for local, national and foreign visitors to enjoy concerts, artistic and cultural events, sports and even a bullfight, called Las Calaveras.
From October 28 to November 5 the program will be carried out and will reach all the municipalities in the state.
90% of the activities will be free of charge and this year the festival returns to San Marcos Island, which will open its gates from 10am to 10pm.
The traditional Desfile de Calaveras will take place on November 2 at 8pm, the participants will walk through the main streets of the downtown area of the state's capital city.
While on November 4 at 5pm, the traditional Corrida de Calaveras will be held, featuring a top-notch line-up, with stars such as Pablo Hermoso de Mendoza, Leo Valadez and Diego San Román, who will fight six bulls from the Villa Carmela ranch.
November 5, 2010 a Napoleon concert will be held at Plaza Patria at 7pm, with free admission.
Frequently Asked Questions FAQ
Where the Calaveras Cultural Festival is held
How to get to the Calaveras Cultural Festival
Distance between Aguascalientes City and Other Cities
Flights to or from Aguascalientes
| | |
| --- | --- |
| | CD de México, Cancún, Puerto Vallarta, Oaxaca, Merida, Huatulco, Puerto Escondido, Tijuana, Monterrey, San José del Cabo, La Paz, Veracruz, Ciudad Juarez, Mexicali, Hermosillo, Chihuahua, Tuxtla Gutiérrez, Culiacán, Reynosa y Ciudad de Puebla, Villahermosa, Tulum, |
| | Los Angeles, Chicago, Las Vegas, Seattle, New York, Denver, Atlanta, Portland, Orlando, Houston, Dallas, Phoenix, San Antonio, San Francisco, Miami, Salt Lake City & Detroit |
| | |
| | |
Aguascalientes is a destination with an interesting combination of charming natural surroundings, tradition and industrial development. 
Outstanding for its manufacturing industry, especially textile, electronics and automotive, the state capital has become one of the tourist destinations with the best range of services in the Mexican Bajio.